Hello Visitor,

In our first Newsletter, we would like to invite you to stay informed on our available products and services and on our new products and services that will soon be released.
You are receiving this Newsletter, as you are one of our valuable customers or contact persons. With this Newsletter, you will be informed (on a frequently basis) and you will be the first to benefit from exclusive offers and discounts (subscribed members only). Feel free to forward this Newsletter to anyone that might be interested as well.
If you are not interested in our news & updates on the products and services that we offer:
CAT B2 Avionics Maintenance Technician Basic Examinations
Now at our Examination Location in Hoofddorp: CAT B2 examinations


We are now also able to provide EASA Part-66 Examination for future CAT B2 Avionics Maintenance Technicians.

As with our CAT A1/A2 and B1 Part Examinations, you can do CAT B2 Module examinations at you own pace.
Based on self-study, with or without our additional examination training support (tutoring), you can propose your own examination date to us and we will manage your request.
We also offer delta B1.1 to B2 examinations and support training (tutoring), for CAT B1.1 Licensed Engineers, that have the ambition to become B2 licensed. In this delta program, the three CAT B2 module examinations 4,5 and 13 need to be passed succesfully (score >75%).
If you are interested in our CAT A1/A2, B1 or B2 examinations and support training services:
Contact us for more information or Visit our website for more details
EASA E-Regulations: Part M, -145, -66 and -147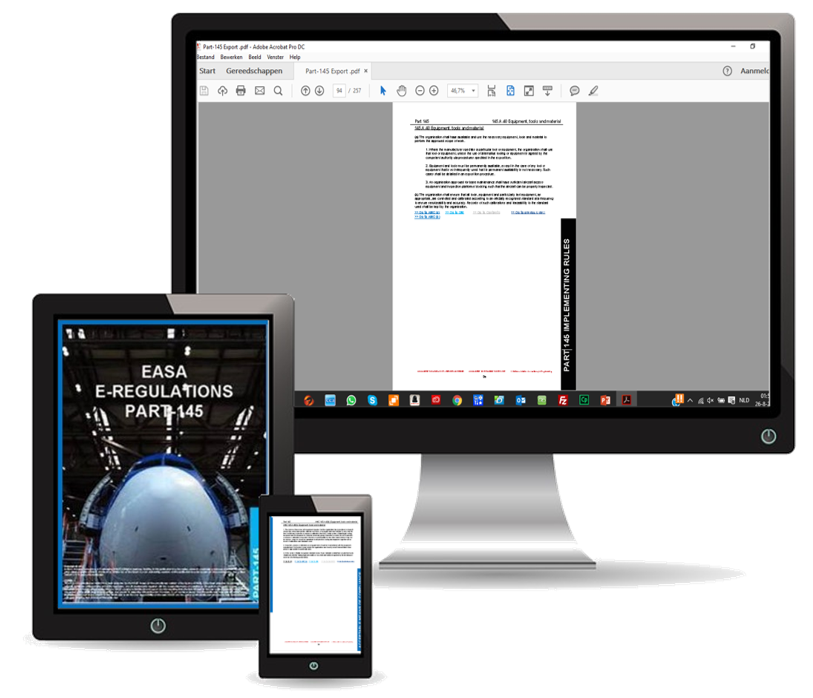 E-regulations EASA Continuing Airworthiness Part-M, -145, -T, -66 and -147

We will soon release a comprehensive service, based on the consolidated regulations for EASA Part-M, -145, -T, -66 and -147 Implementing Rules (IR), Acceptable Means of Compliance (AMC) and Guidance Material (GM). It will have the latest updates incorporated into one E-book.
In this E-regulation document, you can easily navigate to the relevant AMC's, GM's and back to the IR's. With the new "go to previous" option, you automatically return to the last visited page. With this E-book we will make EASA regulations accessible and usable for everyone.
If you are interested, please place a pre-order today (pre-order is without any purchase obligations). If you pre-order now, you will receive a 50% discount promotion code for your first annual subscription.
New Classroom Training Courses

Our course catalogue is updated with new courses
We have expanded our Classroom course catalogue with many new courses. Some examples of new courses that we have developed are:
EASA Part 145, EASA Part-M and EASA Part-66 & 147 Implementing Rules
Incoming Inspection
Tooling and Test Equipment Equivalency
Quality Auditor Training
ESD Awareness
Safety Management System (SMS) for MRO's
Process Improvement Training
Go to our Classroom training catalogue for more details
Partnership with Ciconia Aviation Services and i4safety.nl
Dangerous Goods CBT training

HACE, Ciconia Aviation Services and i4safety have combined their knowledge and expertise in developing Computer Based Training (CBT) on the subject Dangerous Goods (DG).

In the last quarter of 2016, we will be working on the development and release of the first DG training module: General Philosophy.

Follow our newsletter for details on the release date.
Free consult on WhatsApp
Contact us via WhatsApp


HACE offers free advice via whatsapp. You can contact us for questions or requests for assistance.

Depending on the extent of your request we will assist you with immediate advice. Save our whatsapp number in your phone so you can approach our experts with all your questions.